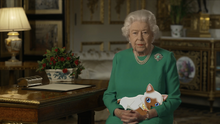 Hey y'all. I was originally VanillaFlare, but this is my new account.
Facts about me
I reside in one of the southern states of the USA, but I don't consider myself a redneck or a hillbilly.
I am not kidding when it comes to this: I have autism (I am high-functioning). I specifically have Asperger's Syndrome.
I also tend to have issues with ADHD and anxiety as well.
I'm a huge fan of Queen Elizabeth II, which would explain why she may be chilling around somewhere here.
I type in British English because I like it more than American English.
My favourite dog and cat breeds are the Pembroke Welsh Corgi (my username even has it) and the Siamese cat, respectively. However, my favourite animal is the red fox.
I do my best to stay calm, both irl and online, but if things heat up, I lose it.
However, I am generally a nice and kind person, especially online.
I'm quite a shy person in real life.
My favorites
Favorite movies
Spirited Away
Howl's Moving Castle
My Neighbor Totoro
Coraline
Kubo and the Two Strings
The Queen's Corgi (guilty pleasure)
The BFG (2016)
Star Wars series
Favorite TV series
Puppy in My Pocket: Adventures in Pocketville (guilty pleasure)
My Little Pony: Friendship is Magic
Star VS the Forces of Evil
Sailor Moon
Death Note
The Crown
Avatar: The Last Airbender
Favorite Video Games
Minecraft
Splatoon 2
Super Mario Odyssey
Mario Kart 8 Deluxe
The Sims 4
Community content is available under
CC-BY-SA
unless otherwise noted.