William is a Golden Retriever dog and the de facto leader of the Royal Guards.  
He is voiced by Sam Gold in English and Maurizio Merluzzo in Italian. 
Appearance
William has lop ears and a short tail. He has long, golden fur and sky blue eyes. He wears a blue Royal Guard collar with dark blue paw prints on it.
Depiction in the series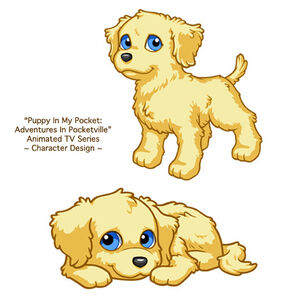 Little is known about William's backstory, but it is known that he became a Royal Guard prior to the events of the series.
Personality
He is responsible, loyal, practical, intelligent, courageous, elegant, and well-mannered. He gets along well with the other Royal Guards and would do anything for them and the citizens of the Pocket Kingdom.
History
Coming soon
Merchandise